Home > Creating a Business Plan > Start and Setup
Start and Setup
FINANCIAL PLAN > Settings

There is no previously determined sequence for the use of worksheets; nevertheless, when starting a new business plan, it is recommended to review the settings first. To do that you should go to the FINANCIAL PLAN > Settings worksheet.
After making your selections, click "OK". 

When the setup has been reviewed, you can either compose the business plan structure and chapters (section "BUSINESS PLAN"), or work on the financial part of the plan (section FINANCIAL PLAN > "Revenue", "Expenses", "Assets", "Funding", "Financial projections").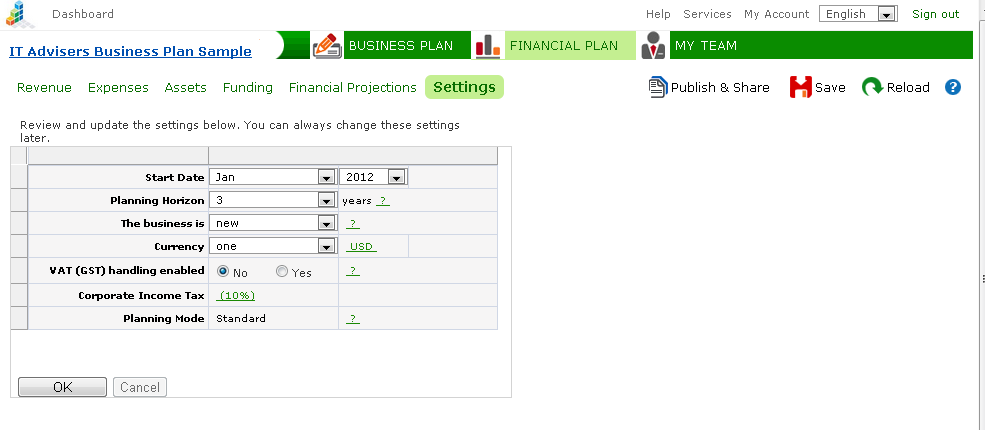 Input parameters (Standard mode)

Project name

The project name can be changed.

Start Date

The start date refers to the month and year from which business plan financial projections are prepared.
The start date can be changed.

Planning Horizon

A project's planning horizon determines the number of years that iPlanner software uses in its financial projections.
The most common of these are 3-5 year financial projections.
It is not recommended to set the planning horizon very far in advance, because the increase in columns decreases the speed of the application and it is more difficult to place tables on the printout. It is recommended to limit the period to 3-5 years.

The business is new or ongoing
If it is a new venture, select "new." If the plan is for ongoing business, select "ongoing." A new business is presumed to have incurred its first revenue and expenses counting from the start date declared. Ongoing business, on the other hand, is assumed to have ongoing revenue and expenses.

Currency

Select the currency for the financial part.

VAT (GST) handling

VAT (GST) handling can be turned on or off. You can also specify when VAT-related transactions will be handled. This usually occurs during VAT registration time. If VAT handling has been turned on, you can view and change VAT charges on the "Revenue", "Expenses" and "Fixed assets" worksheets.

Planning Mode

Planning Mode determines the selection of features and functions for financial planning.

In Lite mode, financial planning module "Financial plan" consists of only two worksheets: "INPUTS" and "Financial projections." Lite mode allows a fast (but primitive) compilation of initial financial projects for a business plan.

In Standard mode, the financial planning features are wide-ranging and detailed. There are separate worksheets with various input parameters for revenue, expenses, assets and funding.

NB! Under certain conditions, it is not possible to use or return to Lite mode. This restriction applies if the number and/or nature of entries no longer correspond to the limited options of Lite mode, or when advanced planning models are used, since they are not supported in Lite mode.


See more
Saving and Team Work
Team Building
Publishing and Sharing