What if a small loan that you make to an entrepreneur could actually help a person to start his or her own business? What if, thanks to business proceeds, that person acquired sanitary living conditions, clean water and access to food and education? Microfinance is a concept that has gained a lot of traction around the globe. By making loans in small amounts to poor entrepreneurs, microlenders give people the chance to lift themselves out of poverty.
What is microfinance?
Microfinance helps people who do not have access to commercial lenders. Some beneficiaries have too little money to open a bank account while others have no access to local banks because of distance or lack of transportation. Before microfinance, many people in poor areas only obtained loans from a local loan shark who charged outrageous interest rates. While microfinance interest rates are high, the loans are far more reasonable than other alternatives. Also, with many microlending organizations, people receive a number of services along with their microloan, including insurance and access to health care.
Women obtain the vast majority of microloans. In many parts of the developing world, women are expected to stay home with their children. Because these women often have large numbers of children, they may end up spending the greater part of their adult life at home. With microloans, women can start home-based businesses that provide them not only with the chance to utilize their skills but also with the chance to earn a second income for their families.
Two Examples of Microfinance in Action
One microlending model was pioneered in Bangladesh by Mohammed Yunus of Grameen Bank. Yunus established Grameen Bank to help the poor to become financially independent. Borrowers join in groups of five entrepreneurs who support one another through the lending process. If one of the borrowers defaults, the other borrowers cannot get more credit until that borrower's obligation is settled. Grameen also requires borrowers to save small amounts in emergency funds while they are utilizing credit from the bank. Thanks to Grameen's model, nearly 50 million people have risen out of poverty as measured by their ability to send their children to school, eat three meals per day, secure a rainproof house and utilize clean drinking water and sanitary toilets.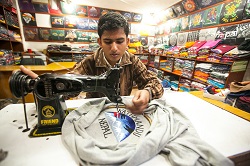 Another successful microlending model is Colombia's Interactuar. Loans start as small as $150 but go as high as $20,000. Interactuar can afford to provide larger loans because they work in a fairly developed country. Also, Interactuar has more stringent borrower requirements. For example, loan officers take the time to review business plans to ensure that business models are sustainable. In addition, Interactuar offers consultancy services at reasonable fees. Consultants will travel to a borrower's place of business and provide on-the-job training. Interactuar even evaluates the products that its borrowers produce at its design center and laboratory to ensure that products are safe to go to market.
Microfinance cannot replace strong national governance, social structures and functioning economies. Also, microfinance entities that do not take time to educate their borrowers about both finance and the skills necessary to run a business will not have as high a success rate. However, the success of people like Mohammed Yunus, who won the Novel Peace Prize in 2006, proves that microlending provides many people who otherwise would not have access to lenders with the chance to overcome poverty. When people choose to donate to microlending charities, the experience will prove rewarding for both lender and borrower.
Read more about Microfinance (by Wikipedia)