So you have a great idea for a product or a service, but before jumping into development and opening up shop you need to complete the first step — choosing a name.
For many, selecting the right name can be a downright stressful process. Though there are many approaches to take and several name styles to choose from, this guide will provide you with the essential concepts you will need to consider when choosing a successful and memorable name for your business.
1. Find Meaning
Your company's name should not be selected arbitrarily. It is your business's identity and will be the first thing your future customers will see when they find you.
Begin your name search by isolating a word or expression that provides some insight into your company's unique style or service. During the brainstorming phase, ask yourself the following questions:
What does your company do?
What aspects of your business would you like to be known for?
Are there any concepts or images that positively represent your company objectives?
When considering these questions, begin compiling a list of words to be used for inspiration. Try combining, shortening, or altering words. Use a thesaurus to find alternatives, or translate your words into other languages to create unique sounds. However, during this experimentation, make sure to remove any words that may confuse your clients or misrepresent your company's services.
2. Think Logical, Not Identical
To draw the desired customers to your company, it can be useful to use words that are a logical match for your particular industry. This can be done directly (ex: Steve's Technology Warehouse), or as a more abstract suggestion (ex: TechHaus). This method will assist your customers in quickly identifying your field, products, or services.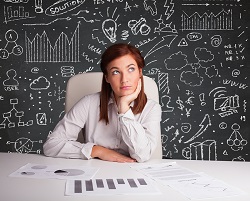 When using industry-specific terms, it is crucial to remain aware of competitors' names in your field. By selecting the most obvious choice, you run the risk of sounding too similar to a competitor or possibly infringing on the copyright of another party. To avoid such issues, seeking legal guidance is always advisable.
3. Less is More
No matter what your business is trying to accomplish, the most import goal your name should achieve is memorability. As humans, our short-term memory can only hold about 7 items at any given time. Since short-term memory is the gateway to long-term retention, a shorter name has a higher likelihood for memorability than a longer name.
If your name is erring on the longer side, try to simplify your concept. Rather than "Cindy's Down-home Country-style Chocolate Extravaganza," try "Cindy's Chocolate" or just "Cindy's." The rest can be added to the tagline.
4. Clarity is Key
In order to gain and maintain a strong customer base, you must ensure that your company is easy to find. To make this easier on yourself, it is best to select a name with straightforward spelling and pronunciation to prevent any confusion.
When you have settled on one or more suitable company names, try gathering a small group of friends and colleagues for input. State each name aloud and ask the group to attempt to spell the name. If you find several spelling variations in the results, you may want to consider choosing an alternative spelling or scrapping the name altogether.
To check pronunciation, provide a separate group with your list of names. Ask each individual to read the names on the list. If any name is consistently mispronounced, it may be best to seek out other alternatives.
5. Final Considerations
1. Since most business directories are sorted alphabetically, choosing a name that starts with one of the first letters of the alphabet can increase your chances of being seen.
2. Try to avoid using words in your name that are based on trends or fads. Though these words may be popular now, your company name will become antiquated should the term go out of fashion.
3. Acquiring a domain name that matches your business name can greatly enhance your company's online presence. Since the .com extension is the most globally recognized, owning a matching .com domain can help to increase your exposure.
Using these tools, you will now be prepared to choose and evaluate quality naming options for your business or product.
About the Author: Khalan Bridges is Sales & Marketing Associate for BrandBucket, the business name marketplace built for lean startups.
How to name a business by SBA.gov